All-on-4 Implants® 
Fixed Teeth in one day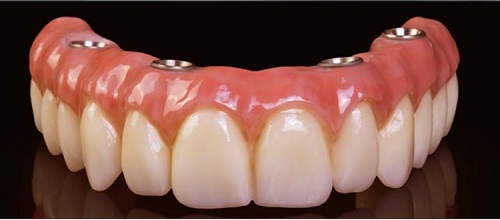 Desoto Dentures and Implants is offering All-On-4®  dental implants. Biting into food like an apple, steak, or corn-on-the-cob are completely possible and effortless. The All-On-4® is a screw-retained bridge, supported on as few as 4 dental implants, and replaces an entire arch of teeth. It is the most functional choice and performs like your natural teeth. It is a permanent solution without covering the roof of your mouth, and gives you up to 95% of your chewing ability, compared to traditional dentures.
Why Choose this Treatment?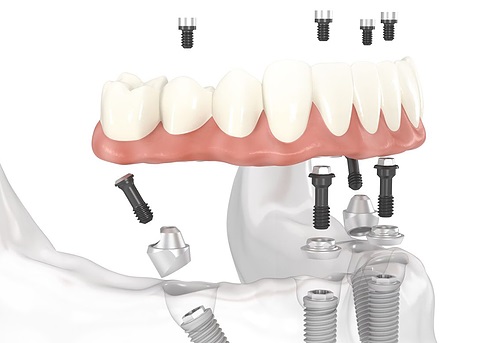 Can be done in as little as one day
Can be done in as little as one day
Replaces All Teeth
Feels & Functions like Natural teeth
Fixed into placed
Eat the food you desire
Preserves jawbone
Long-term solution that is the best value
How do Dental Implants Work?
We want you to have a great understanding of how this technique works to see if it is right for you or someone you know. For starters, you should know what a dental implant is. When one receives a dental implant there is a small titanium screw that replaces the root, part of the missing tooth. The screw fits the inside of the jawbone perfectly. This procedure of placing the screw is considered minor surgery and is required in order to place the implants. When the screw or implant is properly placed into your jaw, we then attach a crown. Aesthetically, you will have a tooth that looks realistic and it is functional for you.
The great thing about All-On-4® dental implants is that you don't need to place an implant for every single tooth that you are missing. All we will do at Desoto Dentures and Implants for your All-On-Four® implants is give you four to six perfectly placed implants for your top arch and four to six implants on your bottom arch. This is the excitement behind All-On-Four®. Another great benefit of using the titanium implant is that this material comes with the unique ability to fuse. The living bone in your jaw will fuse to the titanium screw. This is great because you will never have to worry about your new pearly whites falling out. Your new smile will be long-lasting, and strong and give you the confidence that this is a permanent fix.
In addition to the fusion that takes place with the implant and your jaw bone, there is another benefit. The fusion prevents any future loss of bone that could possibly happen in the jaw. You will be able to enjoy a more youthful facial structure because of this procedure and don't forget about better oral health! Will All-On-4® dental implants, you will love all the amazing benefits, but you will most likely be grateful for the quick transformation that comes into your life because of your great smile.

All-On-4® Dental Implant Cost
Desoto Dentures and Implants provides affordable implant treatments for you. All-On-Four® implants is a procedure that we do offer financing for. If you are interested in seeing if you qualify for financing please fill out the credit application on the financing links below. In addition to offering to finance, we will do our best to represent you when working with your insurance company.
Upper or Lower Arch - $16,999 
Full Mouth - $30,000
This includes all extractions, as many implants as needed, fixed temporary teeth, and fixed final teeth.
All-On-4® Vs. Traditional Dentures

Timeline expectations for All-On-4® Dental Implants
All-On-4® dental implants can transform your smile into something new in just a few visits.
It is important for you to know that while you may be walking out of our office with a new smile that came about in one day, these arches are only temporary. The implants (titanium screws), were placed surgically, which means that there is a healing that needs to take place and over time they will completely fuse to your jawbone. We will consult you on what the time frame typically is and is estimated on a patient-to-patient basis. Once the healing and fusion are complete, you will return to our office and our team will then replace your temporary teeth with your permanent, customized smile that we designed specifically for you.
Is All-On-4® right for me?
At Desoto Dentures and Implants, we offer all our patients a free consultation. During the consultation, our implant team will perform a Scan. It is through the results of the scan that we determine the need of implants for you, and assist us in creating a customized treatment plan. If you have a desire to learn a little more about all in four dental implants and our course of treatment, call us today and we will schedule your free consultation. This is the best way for you to know how our implant team can transform your life!
Call Desoto Dentures and Implants to schedule your new patient exam!