$749 per set
(Starting Price With Warranty)
Traditional FULL dentures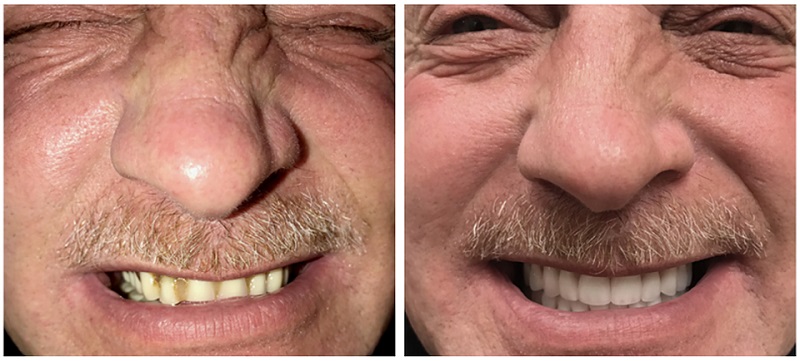 Benefits of Dentures:
Dentures are removable appliances that can replace missing teeth and help restore your smile. If you've lost all of your natural teeth, whether, from gum disease, tooth decay, or injury, replacing missing teeth will benefit your appearance and your health. That's because dentures make it easier to eat and speak better than you could without teeth—things that people often take for granted.
When you lose all of your teeth, facial muscles can sag, making you look older. Dentures can help fill out the appearance of your face and profile. Dentures improve the look of your smile. 
Dentures are the most cost-effective way to replace a full arch (upper or lower) or a full mouth of teeth.
How are our dentures so affordable?
At Desoto Dentures and Implants, we have a denture lab right in our office! This allows us to eliminate the need for an outside denture lab and their marked-up prices. Many traditional dental offices will charge 2-4 times as much as we do. Not to mention they will take weeks or even months to get your new teeth when we can do it all in one day. 
Our dentures start as low as $349. Schedule a free consultation today to get started on your new smile. 
With our "price-beat guarantee," we promise we can beat any licensed dentist's treatment plan price by at least 10 percent.
Denture levels
Premium - $1,999 set / $999 single denture
Strongest, most durable teeth
Most life-like appearance
Most stain resistant
5-year warranty
Moneyback guarantee
Select - $1,399 set / $749 single denture
Stronger, more durable teeth
More life-like appearance
Increased stain resistance
3-year warranty
Moneyback guarantee
Standard - $999 set / $549 single denture
Stronger, more durable teeth
More life-like appearance
Increased stain resistance
1-year warranty
Moneyback guarantee
Basic - $749 set / $399 single denture
Basic durability
Basic stain resistance
Most affordable
Moneyback guarantee
Denture and gum care
Like your teeth, your dentures should be brushed daily to remove food particles and plaque. Brushing also can help keep the teeth from staining. 
Rinse your dentures before brushing to remove any loose food or debris. 
Use a soft-bristle toothbrush and a non-abrasive cleanser(ex. antibacterial soap) to gently brush all the surfaces of the dentures so they don't get scratched.
When brushing, clean your mouth thoroughly—including your gums, cheeks, the roof of your mouth, and tongue to remove any plaque. This can help reduce the risk of oral irritation and bad breath. 
When you're not wearing your dentures, put them in a safe place covered in water to keep them from warping.
Occasionally, denture wearers may use adhesives. Adhesives come in many forms: creams, powders, pads/wafers, strips, or liquids. If you use one of these products, read the instructions, and use them exactly as directed.
New dentures may feel awkward for a few weeks until you become accustomed to them. The dentures may feel loose while the muscles of your cheek and tongue learn to keep them in place. It is not unusual to experience minor irritation or soreness. You may find that saliva flow temporarily increases. As your mouth becomes accustomed to the dentures, these problems should go away.  If any problem persists, particularly irritation or soreness, be sure to let us know as it may require a simple adjustment.
Call Desoto Dentures and Implants to schedule your new patient exam!