$2399
Includes Implant, Abutment, and Crown
Dental Implants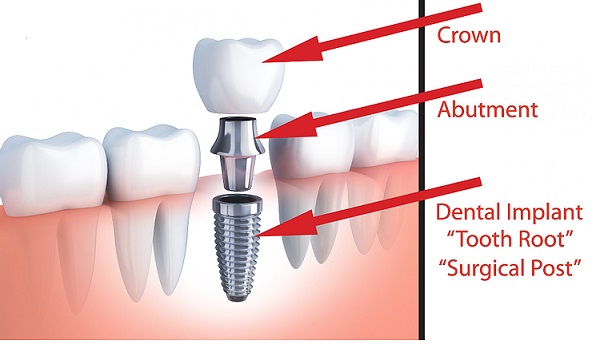 Dental implant surgery is a procedure that replaces tooth roots with titanium Implant, screw-like posts and replaces damaged or missing teeth with artificial teeth that look and function much like real ones. Dental implant surgery can offer a welcome alternative to dentures or bridgework.
How Much are dental implants?
Single Tooth Implants - $2,399
This includes implant body, abutment, and crown
3 Unit Bridge - $5,500
This includes 2 implant bodies, 2 abutments, and 3 crown-bridge.
replaces 3 teeth
4 or More teeth - Come see us for a free consultation
Placing the dental implant
During surgery to place the dental implant, a cut is made to open your gum and expose the bone. Holes are drilled into the bone where the dental implant will be placed. 
At this point, you'll still have a gap where your tooth is missing. A type of partial, Flipper, temporary denture can be placed for appearance if needed while the implant is healing. You can remove this denture for cleaning and while you sleep.
Waiting for bone healing
Once the implant is placed in your jawbone, osseointegration begins. During this process, the jawbone grows into and unites with the surface of the dental implant. This process, which can take several months, helps provide a solid base for your new artificial tooth — just as roots do for your natural teeth.
Placing the abutment And placing the crown
When osseointegration is complete, you may need additional surgery to place the abutment — the piece where the crown will eventually attach. This is a very minor surgery.
To place the abutment:
Gums are slightly opened directly over the implant
The abutment is attached to the dental implant
The gum tissue is then closed around, but not over, the abutment
After the abutment is placed, your gums must heal for about two weeks before the impressions are taken. Your impression will then be sent to an outside lab for your crown to be fabricated.
After the procedure
Whether you have dental implant surgery in one stage or multiple stages, you may experience some of the typical discomforts associated with any type of dental surgery, such as:
Swelling of your gums and face
Bruising of your skin and gums
Pain at the implant site
Minor bleeding
You may need pain medications or antibiotics after dental implant surgery. If swelling, discomfort, or any other problem gets worse in the days after surgery, contact us.
After each stage of surgery, you may need to eat soft foods while the surgical site heals. 
Results
Dental Implants are 95% successful. Sometimes, however, the bone fails to fuse sufficiently to the metal implant. Smoking and Uncontrolled Diabetes, for example, may contribute to implant failure and complications.
If the bone fails to fuse sufficiently, the implant is removed, the bone is cleaned up, and you can try the procedure again in about three months.
You can help your dental work — and remaining natural teeth — last longer if you:
Practice excellent oral hygiene. Just as with your natural teeth, keep implants, artificial teeth, and gum tissue clean. Specially designed brushes, such as an interdental brush that slides between teeth, can help clean the nooks and crannies around teeth, gums, and metal posts.
See your dentist regularly. Schedule dental checkups to ensure the health and proper functioning of your implants and follow the advice for professional cleanings.
Avoid damaging habits. Don't chew hard items, such as ice and hard candy, which can break your crowns — or your natural teeth. Avoid tooth-staining tobacco and caffeine products. Get treatment if you grind your teeth.    
Call Desoto Dentures and Implants to schedule your new patient exam!